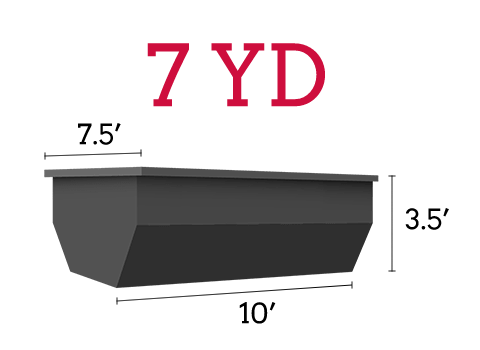 7 Yard Dumpster
$275 1-7 Day Rental 1 tons of material
$5 Per Additional Day
$60 Per Additional Ton

Dimensions:

-10' long

-7.5' wide

-3.5' tall

-7 cubic yards
This dumpster is capable of holding up to 4 truckloads of material.
Key Features
This dumpster has low walls which makes it easy to load from the top.
Is the 7-yard dumpster right for you?
This is one of our most popular dumpster rentals, and also the smallest one we offer. This little guy is great for several types of jobs including:
Landscape Project Cleanup
Garage & Attic Clean outs
Home Remodeling Cleanup
Clean outs Before Moving
The 7-yard dumpster is a go-to choice for most of our customers that are cleaning up after common small range projects. Although it is a smaller roll off dumpster, it's still great for all types of junk removal.
If you are taking on a job of a larger size, - like a full room renovation or a full house carpet replacement, check out our 10-yard dumpster instead. We offer dumpsters in various sizes to help you tackle any size job.
Are you remodeling multiple rooms at once? If you are doing a cleanup that is considerably large, we recommend that you look towards our 15-yard dumpster. It is the largest dumpster rental we offer, and its capable of moving a lot of material at once.
Services
Our 7-yard dumpster can help play a great role in assisting you with cleanup, but what if you need some extra help? See our bobcat service to help you with heavy material cleanup. We come to you and help with the entire debris cleanup. Let our machine do all the lifting so you don't have to.