Book A Dumpster Rental in Toledo
When your searching for a dumpster rental service in Toledo to clean out the garage, build an addition on the house or just clean up the yard, Buckeye Disposal is your number one source for Dumpster Rentals in Toledo . We offer many different sizes to help with the ease of your next project. Take care in knowing that everyone at Buckeye Disposal is here to serve you and making your project go smooth is our number one goal. You can rest easy knowing our staff is trained in the safe and proper operation of our equipment.
Below is our dumpster sizing guide. When looking for a dumpster in Toledo, first think about what your going to put in it! If its a simple small garage clean out, we have you covered with our 7 yard dumpster, why get a large dumpster and not use all the space! What if you are cleaning out the basement and you need to get rid of all the clutter from the past 10 years? That's where our 10 yard Dumpster can help and with the low sides, anyone can load it! Doing a bathroom remodel? Check out our 12 yard dumpster! Are you in the everything must go mood! The 15 yard dumpster will make all that clutter go away! No matter the size of the job Buckeye Disposal Is your only choice for Dumpster Rentals in Toledo
Why Buckeye Disposal Is a Quality Dumpster Rental Company in Toledo
Buckeye Disposal is the front-runner for providing roll off dumpster waste solution for businesses, contractors, residences in the greater Toledo area. Our Drivers are trained professionals that operate with care and pride in there jobs. You can rest assured that when a Buckeye Disposal truck pulls on to your property the driver will handle everything with nothing but professionalism and care.
24/7 Availability
Our Dumpster Rental's services is always accessible online. Make your selection, schedule drop off and pay for services anytime of the day, at your own convenience
On Time Delivery
You can always count on us being ontime, and you choose what time works best for you. All of our drivers and junk removal specialist are trained professionals
We'll Pick Up Just About Anything!
Below are examples of items we pick up but not limited to:
E-Waste Disposal
Refrigerator Disposal
Mattress Disposal
Foreclosure Clean Outs
Construction Waste Removal
Yard Waste Removal
Appliance Removal
Trash Removal
Television Disposal
Furniture Removal
Hot Tub Disposal
Garbage Removal
Our Dumpster Rental Sizes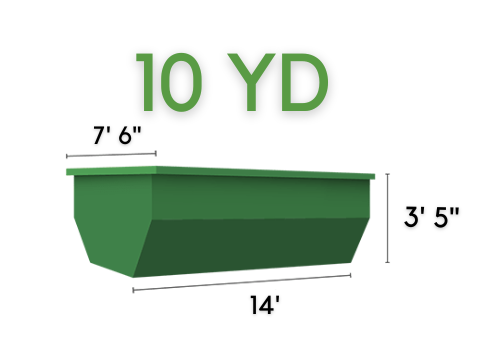 10-yard Dumpster
The 10-yard dumpsters are by far our most popular size. It still has our low easy to load sides, but has plenty of room for most projects. With the capacity of 6 pick-up loads of material, you can fit most small house clean outs, one room remodels or any small clean up project in this dumpster.
Book Now
See What Our Customers Say!
"Buckeye Disposal offers great customer service and had just the right dumpster to help with my clean up!"
"We were very pleased with our experience. On time and very professional guys working there. Thanks so much!"
"We used these guys to do a full home clean out. We have used other companies in the past, but this one is unmatched!"
Call us today!
(419)360-3760
Now that you've decided on the size and date for your dumpster rental in Toledo its as easy as 1,2,3. First pick your size, then pick your date and then give us your information and your all set! You can trust that Buckeye Disposal will take care of your project with professionalism and care. Book Today!
Office Hours
Monday-Fri 9am to 5pm
Our Service Area
Buckeye Disposal is proud to serve Toledo Oh and surrounding communities.
If your project site is beyond that radius, just let us know! We often deliver units even farther out, and special accommodations can usually be made to suit your project - and your wallet.
NOTE: Extra fees may vary depending on how far you are outside our service area.