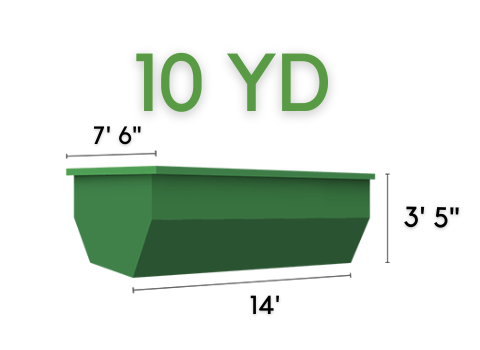 Description
$289.95 1-7 Day Rental 1 Tons of Material
$5 Per Additional Day
$60 Per Additional Ton


Capacity- 4 Pickup loads
Dimensions:

- 14' long

- 7.5' wide

- 3.5' tall

- 10 cubic yards

The 10-yard dumpster rental is great for projects like:
Home Demolition Cleanup
Large Landscaping Projects
Full Home Clean outs
Construction Pickup
The 10-yard dumpster is capable of helping you with almost any job you can think of. It's size allows you to clean up a large quantity of material all in one haul. If you are cleaning up after a large job, this is the dumpster we recommend to you.
Dumpsters For Small Projects
We also offer dumpsters in smaller sizes as not every job will call for a dumpster of this magnitude. If you are doing a small cleanup, we implore you to see our 15-yard dumpster. We even offer a 20-yard dumpster for medium range jobs of all types.
Services
With larger sized cleanups, you may need some extra assistance. If the job consists of cleaning large amount of heavy material then you should see our bobcat service. We bring our tractor to you and we take care of the rest. Let our machine do all of the heavy lifting so you don't have to.